Bagh
Phone Code : 0599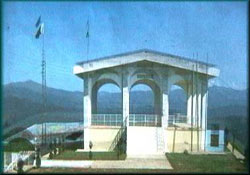 map
Bagh: was part of the Poonch province in the Dogra days. After 1947 it became a sub-division (Thesil) of the Poonch district only to become a district in its own right in 1988. Linked to Muzaffarabad by two roads, one via Sudhan Gali (80Km) and the other through Kohala (97Km). It is situated 46Km from Rawalakot. Bagh is well known for its confectionery and bakery products.
Dhirkote: is a facinating and charming place located 24Km from Kohala. Situated at 1676m above sea-level, Dhirkote possesses an extremely pleasant and healthy climate. The place is very popular among people mainly due to easy access, suitable altitude and beautiful landscape with Deodar and kail forests.
Neela Butt: is located 6Km from Dhirkote at an altitude of 2000m above sea-level. It was at this place on 23rd August 1947, the local rebels, aiming to get independence, met and made decisions about the liberation of Kashmir from Doga rule. Neela Butt is regarded as the birth-place of the independence movement and hence the AJK government has built a memorial here.
Sudhan Gali: located at a height of 2134m above sea-level and a short distance from Bagh. This scenic spot also serves as a base camp for those going hiking/trekking to the nearby 3045m high mountain, Ganga Choti
From Bagh, a 15Km mettalled road leads to Las Danna, a place of captivating scenery and natural beauty.